Future proof your building career with Stroud Homes!
There is a lot to think about before starting your own business. It can be a daunting process and especially if you doing it for the first time. At Stroud Homes, we have created a business around guiding and grooming ambitious builders, and giving them an opportunity to get ahead quicker than they would have on their own.
In this blog post we look at the benefits of buying into an already recognised brand and how Stroud Home's provide the tools and support you need to build and manage your business with confidence.
Firstly, what is a franchise?
A franchise is a business model wherein many individually owned and operated businesses (franchisees) are branded and overseen by a larger company (franchisor). In a franchise agreement, the franchisor provides a developed way of doing business, ongoing support and systems in exchange for periodic payment (fees) by the franchisees.
Essentially, as a franchisee you are paying ongoing fees to join an already established business, brand and way of operating, so you don't have to make the same mistakes and fight obscurity like many other new business owners. You get to start many steps ahead of the competition.
But why choose Stroud Homes?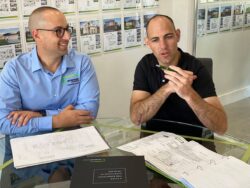 When you buy a franchise, you buy a complete method of doing business. At Stroud Homes we provide our franchise developed systems to manage every angle of a building business, with reporting to ensure educated and calculated decisions are being made.
Coming aboard Stroud Homes allows our builders access to systems and support to get them off the tools and successfully start developing a renovation building business.
Below are the main benefits of joining Stroud Homes as a franchisee:
The software
Our philosophy towards software has always been to "buy the best" because we build houses – and they build software. With our first-rate, fully integrated software and construction management systems you'll work smarter and get ahead faster in your sales, estimating, quick and accurate quoting plus workflow and scheduling – saving you time and stress every working day.
Coming on board as a franchisee, you will get the proper training to be able to utilise that software in the most efficient way for your business growth.
You get to enjoy a website and digital presence from day one, all strategically planned to help you succeed. Be part of a strong, clear brand online with a great reputation – and tap into years of expertise, graphic design work and resources for grassroots marketing that generates a flow of enquiries and leads for your business.
The Designs
At Stroud Homes, we understand that buyer preferences, environmental and market conditions can rapidly vary and many of our house designs are made in response to requests made by clients who come into our retail outlet. As a company, we are about creating a home that works for your family, your lifestyle and the climate you live in.
So, when Stroud Homes launch into a new area, part of the process is talking to locals about what they want and need from a home. We're not so arrogant to believe that we've got designs to suit every need, budget and geography. What we do have are the ingredients to make home designs practical and exciting to the people of that region. These ingredients include drafts people, computer artists, marketers and building business specialists – to make our builders competitive in their market.
The Support Network
Stroud Homes franchisees are in business for themselves, not by themselves. Our organisation model offers the franchisee the ability to grow under a common brand and benefits from a larger group of business owners. This means you instantly become part of a team where builders and head office support each other and are in contact with one another.
As a franchisee you will have access to the professionalism and support of a high-achieving team with a proven system and solid track record in their specific area, may it be marketing, sales or supervising. Every quarter Stroud Homes holds a builder's conference to offer the franchisees an opportunity to get to know each other, as well as get to know the management team from the head office.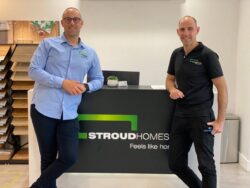 The Training
Stroud Homes' training begins during the recruitment phase, where you will have an opportunity to spend a couple of days with James Stroud. During this time, you will have the opportunity to explore the Stroud Homes opportunity, have a look inside the "system" that supports the operation and success of Stroud Homes.
If you are successful in our recruitment selection process, your full training will begin soon after you sign up for your new franchise.
During your training, we will support you in the launch of your business and will assist you with getting your franchise up and running. Stroud Homes offers ongoing training and support to help all franchisees in both the day-to-day operation and long-term development of their business. Our training will consist of a mix of in-office, virtual and up to 20 days of onsite training.
The systems
Many new builders have concerns about running and financially managing their business. We've made a commitment to make Stroud Homes the most reliable builder and that includes financial stability.
Our management systems are specifically designed for new home building businesses, and we work alongside you to help you understand your cash-flow reports every week plus overall progress reports every month.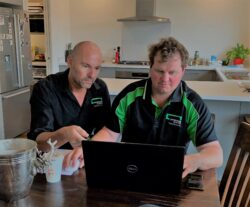 We provide a lot of support to make sure your building company is organised, stable and well planned. Stroud Homes systems are easy to implement and include guidance across all areas including:
Marketing, sales and quoting;
Estimating and procurement;
Workflow and sub-contractor management;
Human resources and recruitment;
Strategic development.
It's like having your own business coach!
Join Stroud Homes today!
There has never been a better time to join the Stroud Homes family. We have enquiry coming in over the whole of New Zealand and we need great builders to join our team.
Stroud Homes provides a well-planned path for tradies to get off the tools and to become business people within the building industry. With the strong systems and support in place to grow your own business, Stroud Homes gives you an opportunity to do what you've always wanted to and much more.
To find out how to join the Stroud family of builders, call Mark Harris direct on 027 606 0063 or email: mark.harris@stroudhomes.co.nz.
Check out if there are areas near you available today!